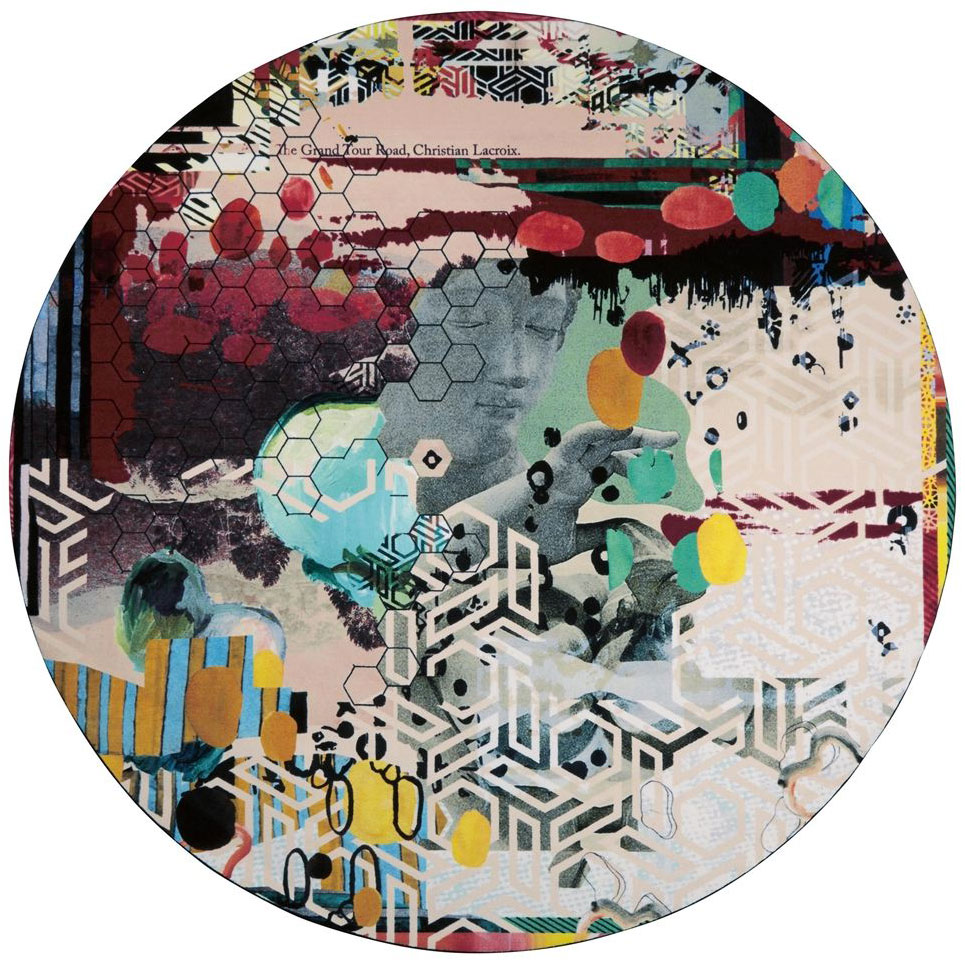 Now that our living room is virtually black. It's time to get a new rug. Our living room is pretty long and narrow.  Typical for a Victorian house.
Initially, I thought it's got to be either a rectangle or square one.  Because that's what we've always been told looks good in a room with four corners.  Also, we've been told that a rug should sit underneath your furniture.  Not starting at front of it.  And there should always be enough rug peeping around your furniture in order to look right. Right?
But really? Is this the only option?  Hey, you know me.  I do like to be unconventional, sometimes.  And I think this is one of those moments!
That's when I started having a look at alternative rugs shapes.  Everything I looked at seemed typically rectangle.  And in my eyes, not everyone's, but a little boring.  I wanted something different.  I wanted a rug to complement the dark walls and red sofa, kind of rug.  A rug that added a different dimension to my living room, kind of rug.   A rug that stood out.  A rug that shouted "Hello! I'm a rug", kinda rug!  I think you get the picture.
I think at this point, I need to admit that I've ordered and returned 4 different rugs!  Yes, you read it correctly, that's 4!  I am a woman after all and it's OK for us to change our minds.  It's natural, it's in our genes.  It's what we do best. Smiling lots!
We'll luckily for me and my forever changing mind. I only ordered from shops that provided a free return.  Just in case I didn't like it. I ordered 4 and all 4 went back.  No problemo!
Finally, phew!  I came to the conclusion that rugs don't have to be rectangle or square.  The more I looked on Pinterest the more I've noticed people off roading from the more traditional square & rectangle shapes, and starting their very own rug revolution.
Now, I love different shaped rugs like hexagonal or round ones. They bring a new dimension into a square or narrow room. They add a degree of uniqueness, so it's not too conservative.  Admittedly, a round rug can make a bold statement, if that's what you want. But if your not that daring, team it up with a square/rectangle rug and bob's your uncle.  Your rugs look pretty cool!
There also seems to be a trend that rugs don't have to sit so comfortably straight. Rugs DO look good off set or placed at an angle.  And it's good to be different.
Layering rugs is also great.  It's a bit like layering clothes.  Don't just shove on a jacket.  Think about laying an unbuttoned denim shirt over a tea-shirt instead.  It's much cooler, don't you think? Rugs do the same.  There's plenty of Pinterest pins where people have layered cowhide rugs over sisal rugs. How cool is that?
So after all that, what rug did I finally settle on?  As much as I love the Christian Lacroix rug (featured in main picture) but at £3000, I can only dream. Unfortunately, my budget didn't stretch that far, so I chose a Zebra rug from iRugs.co.uk  A bargain at £159!  So what do you think?
So next time you want to buy a rug.  Ask yourself, do I want to be conventional or try something different.  You'll be surprised how creative you can be.  So, take the plunge be different and join me in the new rug revolution!!
Let me know how you get on.  As I'd love to see some pics! x
But in the meantime, here are a few of my favourite round rugs.