Hi, thank you so much for visiting. I've only just started my blog and am a complete novice to the blogging world.  So apologies if the flow's not right or my grammar's not correct.  It's a work in progress blog!
I am mildly dyslexic (if that's how you spell it?), so writing is sometimes a challenge for me.  I always want to get it just right.  That topped up with being a perfectionist, I wouldn't be up and running now if it wasn't for my partner, Willis.  Who was getting frustrated with my constant, 'I need to read/edit it AGAIN!' to the point he said 'stop faffing around and just get on with it'.  So here I am errors and all!
Like many of you, I'm completely and utterly obsessed with interiors. I LOVE them!! And when I mean love them, I really really do.  I've spent hours, sorry I mean days/weeks/months surfing Pinterest in bed, looking at different interior styles.
So that's how my blog came about. I wanted to create a blog to share my interior style and ideas of how you can create expensive looking interiors without needing to spend a fortune. I'll be honest and will share my successes along with my mistakes so hopefully you won't do the same.
My life
I live in Hove, East Sussex with my partner (who for some reason doesn't want to be named?  So for the sake of my blog he'll be known as Willis) and my son Zachary (that's his real name, who's 3). We live in a Victorian house which we are currently finishing and it's taking us bloody ages.  So hopefully this blog will give us the kick up the backside we need to finally get things finished.
Before having Z (that's what we shorten his name to) I worked in the corporate world. I worked as Head of HR, Business Partner for Virgin Atlantic and Regional HR manager for Delta Airlines to name a few.
Having given up on the idea of not being able to have kids. We thought about spending our money on expensive holidays and fast cars. Shock, horror when I fell pregnant and oh my god how my life's changed. Sorry Willis, no Maserati for you!  No more late nights in London living the high life. It's more like PJ's on at 8pm and in bed by 10pm (at the very latest!).
So after having Z and adjusting to a complete life change I've decided not to go back to the corporate rat race. Plus a 2 hour commute to London (on Southern trains) wasn't really selling it to me.
Being a mum is hard work.  And to be honest, I really struggled in the first year and when I mean struggled, I really did.  I felt like I was surrounded by other mums who found it a lot easier than I did, or they did a pretty good job of hiding it.   So in the process I felt like I'd lost a part of me, the individual me, the me before I became mum, me.  There's only so much Peppa Pig & Paw Patrol my little brain can take. Smiling lots!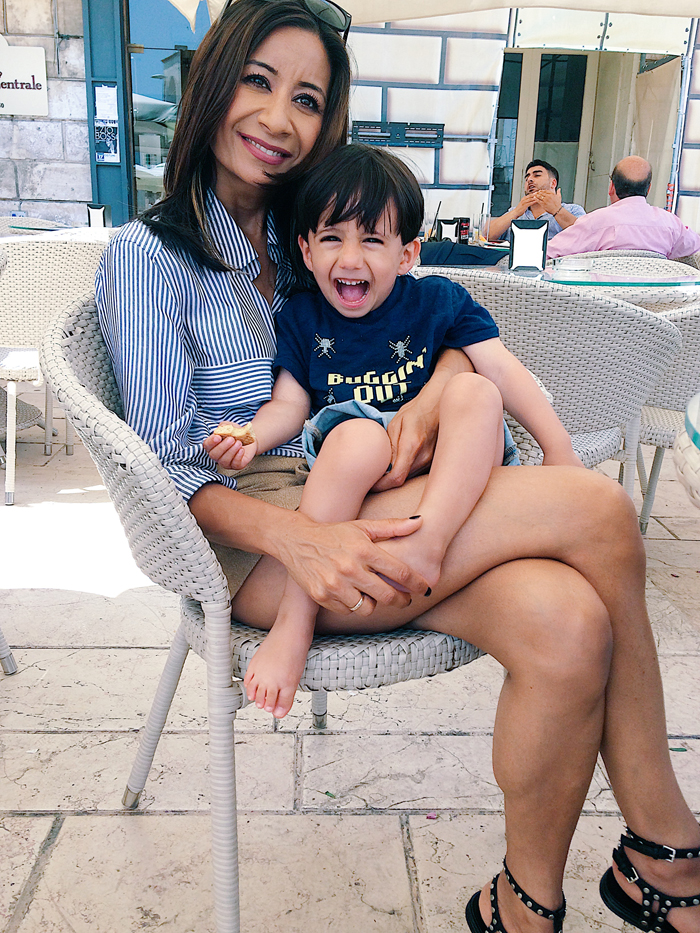 Don't get me wrong, I love being a mum (sometimes!) and wouldn't change it for the world.  But now I've decided to do something for me.  Something I love. INTERIORS!  And to be honest being a mum can be pretty boring sometimes so it's nice to be doing something else you love.
So out of that my blog was born. ModernLuxe (Modern luxury).  Please see my post on 'How I defined my interior style' which describes how I defined my style and came up with my blog name.  So if you love interiors but don't want to spend a lot then hopefully you'll love my blog and get some good ideas to recreate in your own homes.
Anyways, enough of my ramblings. I really hope you enjoy reading my blog and thanks again for visiting.
I would love to hear your comments/suggestions, good or bad, so please feel free to comment on my blog posts. Also, would love to stay in touch with you guys through the delights of social media, Pinterest, Instagram, Twitter.
Happy ready and hope you enjoy!
Poonam x