Well, it all started when I painted my living room BLACK. Well, it's not quite black but near as damn it. I painted it Farrow and Ball's Railings, which is a few shades lighter than black. But unless you get up really close you can't really tell the difference. I was inspired by Abigail Ahern's style and venturing to the dark side. I just love dark walls. Abigail's got a great blog on tips for converting to the dark side.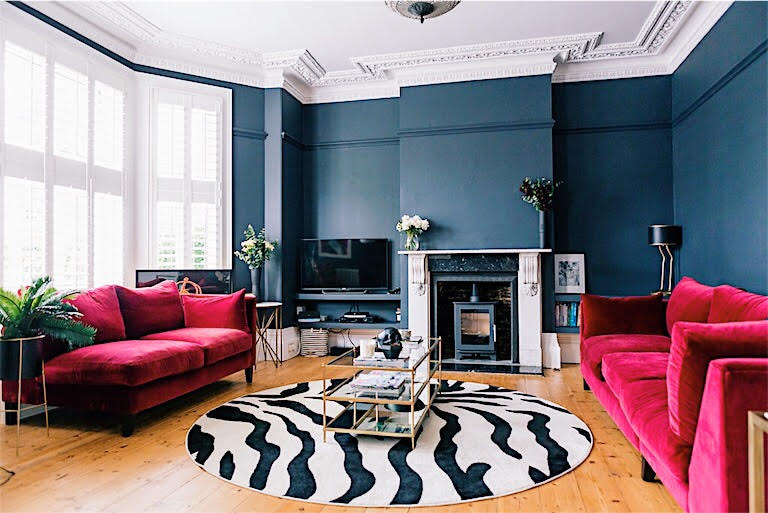 So I woke up one morning and decided to take the plunge. It was both exciting and scary. I remembering driving to B&Q to pick up the paint and my heart was racing. I'd never done anything like this before, especially to go so bold and paint a whole room black. Note: I'm not as daring as Abigail who suggests painting everything dark, including the skirting, ceilings, doors everything! And top of that Willis knew nothing about it. I did it when he went away on company business. I knew he'd never let me, so I went ahead and did it anyway. Brave I know!
So it was a complete and utter shocker for Willis when he got home and walked back into a black living room (which was light grey only a few days before). Eeek! He didn't speak to me for the first hour when he got home. S**t he's gonna kill me. But, I loved it!!! And luckily for me so did he, otherwise I'm sure if we were married we'd be divorced by now. Painting it black has dramatically changed the look and feel of the room. So be warned if you're going to venture to the dark side, it's a definitely a game changer!
Then I sat back and thought, right I love the dark walls. But the red sofa doesn't look right. The lights need changing. We need to buy new furniture. And that's when the obsession with dark interiors kicked in!
I spent weeks sloping off to bed early and surfing the net looking for dark interiors. I saved just about everything and anything on looks I liked. It was a complete random mix of eclectic, modern, industrial, boho glam, basically anything dark. As you can imagine, my Pinterest boards were pretty mahausive.
OMG!!  What have I done? What kind of monster have I created?  Maybe I should have left it grey? The furniture doesn't look right! The artwork doesn't go with the black walls. Aaggghhh!! And the questions just kept on coming. So after many sleepless nights lying awake in bed thinking of black walls. I slowly felt like I was driving myself mad. The questions were endless. And the search for finding a style that was me just wasn't happening.
Fortunately for me, that's when Willis stepped in and helped me break it down. He's good like that. He gave me an exercise. I felt like I was back at school. He's a Virgo so he's very logical and pragmatic and not at all like me, who's spontaneous and impulsive. The exercise was to go around the house, and describe in one word the style of each piece of furniture.
Bingo!! It finally clicked. Just 2 words. Either my interiors were modern or had a degree of luxury about them. That was it, my style, my blog, Modern Luxe! It really was that simple. And just for the record, when I say luxury, I don't mean expensive. There are so many great high street shops selling great interiors that look expensive but at a fraction of the price. And we all know everyone loves a good looking bargain!
Initially, I thought my style was eclectic. But a mix of different eras, materials and styles is far too confusing for my little brain plus I now know I'd never get it right.  So Modern Luxe it is!  I can now comfortably say this definitely defines my personality, my style and my blog.
Defining my style has definitely helped me focus on interiors I'm naturally drawn to. That represent me. So thanks Willis on this occasion you were right.
So now when I look on Pinterest or other sites I ask myself two questions is it Modern? Is it Luxury? And if the answers YES, then bingo I know I'm on the right path. It's that easy. Don't get me wrong I still love other styles and occasionally I'll sneakily add something I like. But on the whole it's Modern Luxe.
So defining your style doesn't have to be difficult. But it should represent you, your personality and no-ones else's. Otherwise you'll just end up creating a style that copies others which isn't really you. That's the problem I had. I was like a pig in s""t liking too many different styles rather than creating my own.
So for years I thought my style was eclectic. How wrong could I have been?  Check out Kimberley's blog from Swoonworthy and how she defined her style through Pinterest.
So have you defined your style?  I'd love to know x