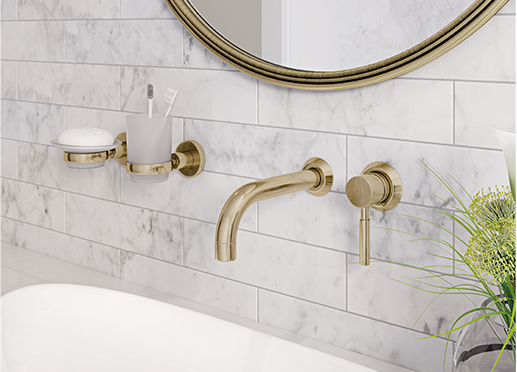 I'm so happy I've started my blog as we've finally agreed to refurb our bathroom. Woo Hoo!! It's been one of those things that's been on our to do list since we moved in, and that was 7 years ago!  So this has been 7 years in the waiting. But hey, I've got the perfect excuse now 'it's good for my blog'. So sorry Willis, there's no getting away from this one. Smiling lots!
So when I started looking for bathroom inspiration I immediately fell in love with gold taps. They just look amazing! There's simply no other word for them. They're chic, sophisticated and glamorous, and speak luxury hotel bathroom all over. It was then I knew I had to have them. The more I looked, the more I fell in love with them. And there was no way I was going to settle for anything else. And that's when the long argument over gold taps started.
Agreeing bathroom taps has been a complete and utter nightmare (we love a bit of drama in our house…)! Who would have thought that choosing bathroom taps could cause so much controversy and misery (on my part).  It's taken me 6 months to convince Willis to go for gold taps. His response has always been 'they're too, blingy and too footballers-wives' (no offence to anyone who's married to a footballer, I'm only jealous!). Convincing Willis was like trying to convince Z that being quiet is good. It's never gonna happen. But you know me, I wasn't going to give up that easily.
I used my womanly charm, it didn't work. I got grumpy, it didn't work. I slammed a few doors, it didn't work. I went radio silent (I think Willis quite liked that one), it didn't work. I even reverted to tears (well crocodile ones anyway), not quite sure what he thought of that one.  So after months and I mean months of trying every trick in the book, I finally convinced Willis that 'gold is good'.
So after feeling like living on the set of Eastenders for the past 6 months, we finally settled on brushed gold taps by Vado. I had to compromise (something I'm not very good at) and agree to brushed gold taps and not the full on footballers gold, gold. Unfortunately, they're not as blingy as I would have liked, but gold nonetheless.
So at last, here they are in all their glory. Not quite what Victoria Beckham would have, but well worth the 6 months of arguing, don't you think? I've deliberately not included the prices just in case Willis reads this post. Ouch!! It's called the 'art of deception' something us women are very good at! Smiling lots!
So, what are you waiting for?  Ditch the chrome and join me in the gold tap gang!
x
Need a little more convincing?  Then check out a few of my other favourites.
Looking for something super slick?  Then this mixer tap from Livinghouse ticks all the boxes. Understated gold, coupled with it's minimalist structure shouts unpretentious glam all over. Trust me you won't get any slicker than this!
Love tradition but with a modern twist? Then check out these antique wall mounted taps from UKTaps.  They'll look amazing teamed up with either a roll top bath or something ultra modern. The choice is all yours.
And for those looking for something slightly more masculine, then this tap from Findtaps.co.uk will not only keep your other half happy it'll also be light on the pocket too! That's a win win in my book.
And finally here's a couple for the girly girls out there. Check out these amazing rose gold taps from Victorian Bathrooms 4U  They'll most definitely celebrate your feminine side.
And this gold tap from Findtaps.co.uk with it's muted rose gold finish and a touch of the Philippe Starck's, shouts designer glam from the roof tops.