The Idle Hands was one of the first Instagram accounts I started to follow. What drew me to Sandra's posts was not only her pics but her wit, enthusiasm and love for all things family and interiors. And I absolutely loved her hallway. There are only a few people that can be bold enough to use House of Hackney wallpaper in their hallway and Sandra is definitely one of them. And it wasn't long before we started commenting on each others posts like we were old friends. But you know me, I'm fascinated with people and wanted to find out more. Who is this amazing person? How does she do it? So here she is Sandra the amazingly gorgeous and super talented lady behind The Idle Hands
Hope you enjoy xx
"Hi I'm Sandra, I'm a solicitor living in West Yorkshire with my husband, Chris, and daughters Kitty and Polly. I have no idea quite how I stumbled into the weird world of interiors Instagramming, but I'm glad I did. I've always been obsessed with interior design, and making my surroundings pretty, I did it in my teen bedroom, my University house share, throughout a variety of dodgy rented places and finally got to "go large" when we bought our first house back in 2003.
We bought our current house 6 years ago, it's a beast of a Victorian property, with 5 bedrooms, and I still don't feel grown up enough to live in it! It's on the end of a terrace but faces away from the other houses – it used to have massive gardens, but alas they have been built on over the years and we have a modest little patch now. That's fine for me though, gardening isn't my strong point. Excitingly, the basement still has an original cast iron range in it from Victorian times! The house a work in progress, we weren't in a position to renovate it all in one go, so have been working our way around, room by room.  There's still lots to do.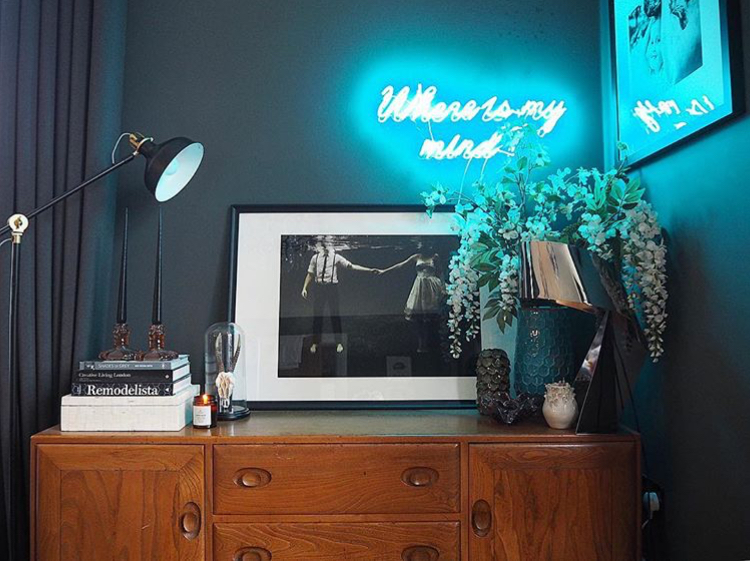 I love bold pattern, I'm always drawn to florals, and have loved adding gorgeous wallpaper to my house.  It's always so exciting when it goes up and the whole feel of the room changes. I also love bold colour – sometimes dark, sometimes not – and art, which I've peppered around my home.  Fingers crossed it's ended up as "considered maximalism" rather than "aftermath of jumble sale".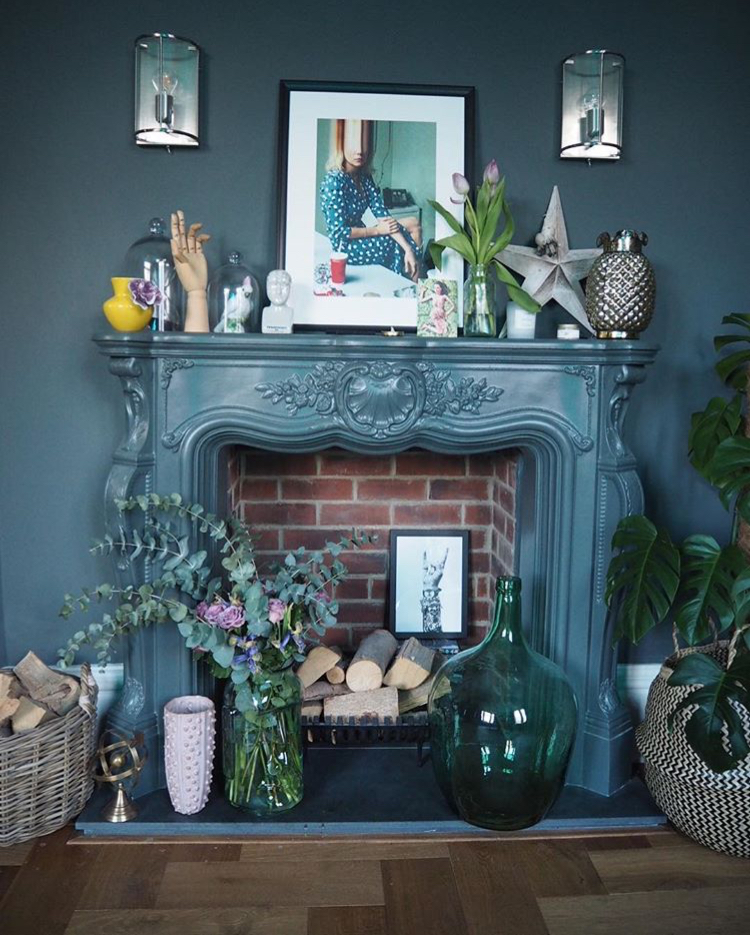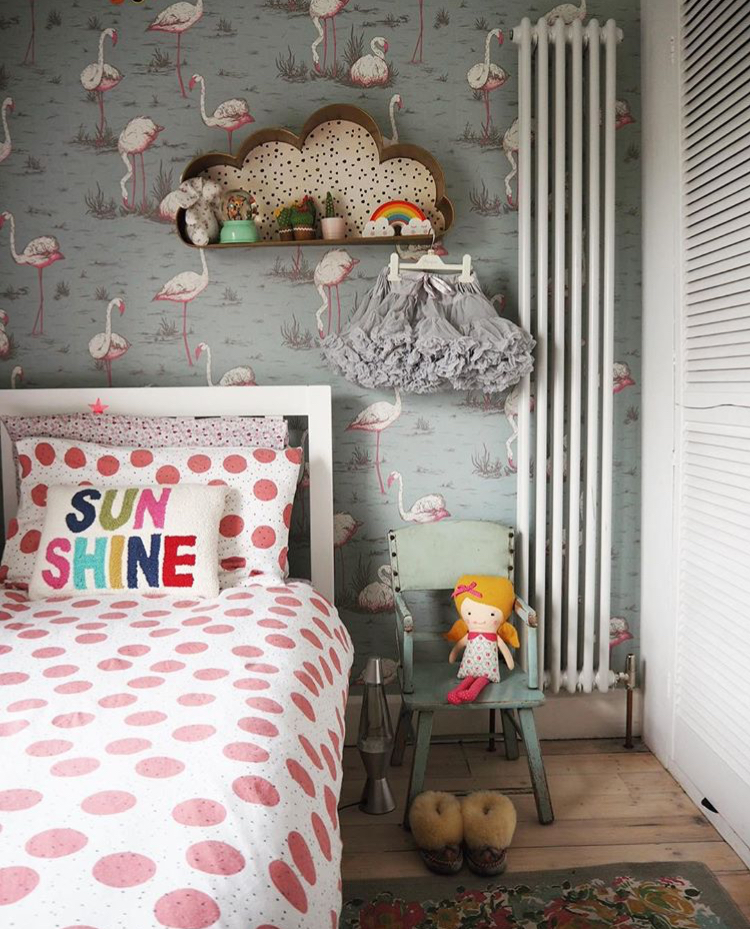 What's your favourite room? 
"My favourite room isn't an official "room", it's my hallway! The house has an unusual layout with lots of stairs and corridors – it's really confusing when you first visit, and I loved that when we first looked at it!  There's a lot of wall and floor space.  We lived with the previous owner's knackered decor (pastel yellow and blue, should you be interested) for 5 long years and then I got my mitts on it.  I really wanted to play with the Victorian heritage of the house, whilst bringing it up to date.  I put Anaglypta paper under the dado rail and painted it bluey-black and my biggest splurge to date, pink House of Hackney "Artemis" wallpaper on top. We haven't finished the house by a long stretch, but the newly decorated hallway pulled everything together and made it feel like a proper home".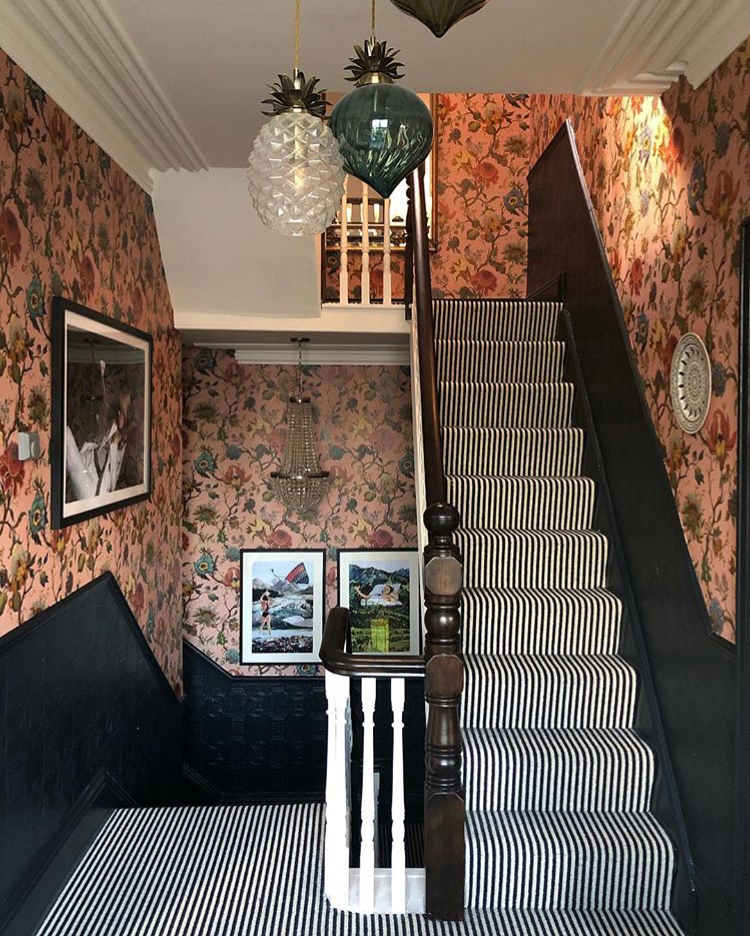 What's your biggest interior mistake? 
"This was during the hallway project.  There was a complicated series of events where the decorator thought we wouldn't be able to hang my House of Hackney paper in the hallway.  It comes in pre-printed panels, rather than a full roll, and it was a hugely complicated undertaking. I'd already bought an alarming number of rolls. I cried. I chose another scheme and I had the ceiling painted black. I love this look in general, but it was a disaster in my hallway.  I cried again.  It made my heart sink rather than sing.  After more tears and head scratching and a couple of days of reflection, I had white ceilings and House of Hackney paper up and my wallpaper and I lived happily ever after. My decorator probably hated me".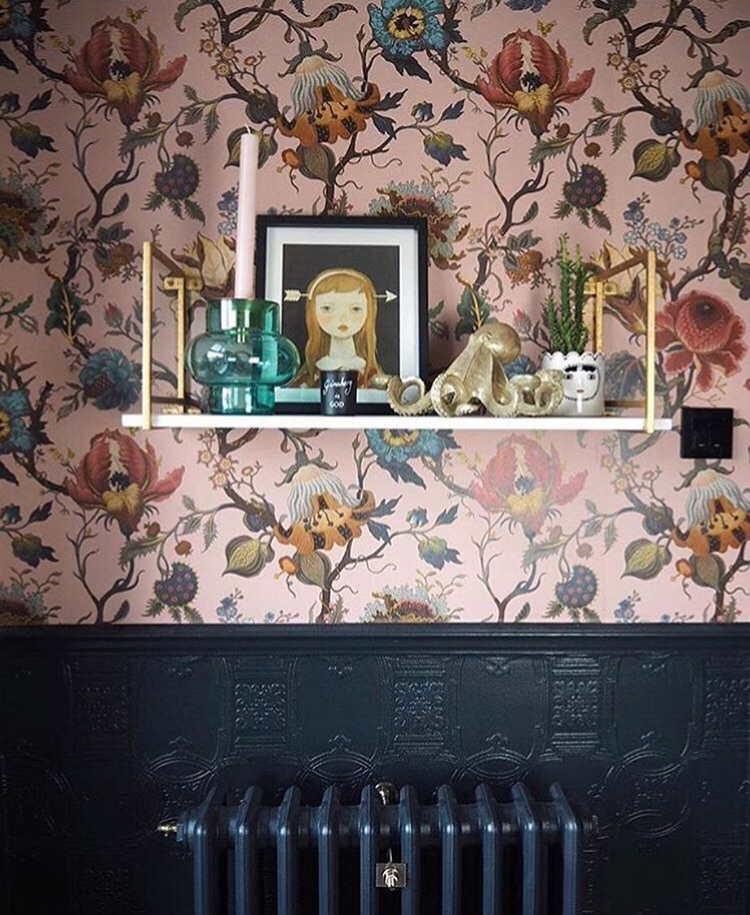 What's your interiors pet hate? 
"Short curtains. Always go floor length, regardless of the size of the window, or go Roman blind/shutter. Short curtains just hang there looking a bit lost".
3 interiors items from your home you would take to your own desert island?
"Good question!
1.  My bed. Not because it's massively stylish, but I love bed in general and mine is super comfortable, so I'd always get a good night's kip.  It could double up as a fancy sunbathing spot by day too, so I'm actually being very practical.
2.  Can I take my whole en-suite? Somewhere to wash the sand off, and my yellow bathtub to soak in – I'm a devoted bath person, and this applies whatever the weather.
3. I'll have a piece of art to hang off a palm tree please.  I love Tali Yalonetzki and have a few of her pieces. One of those, I think".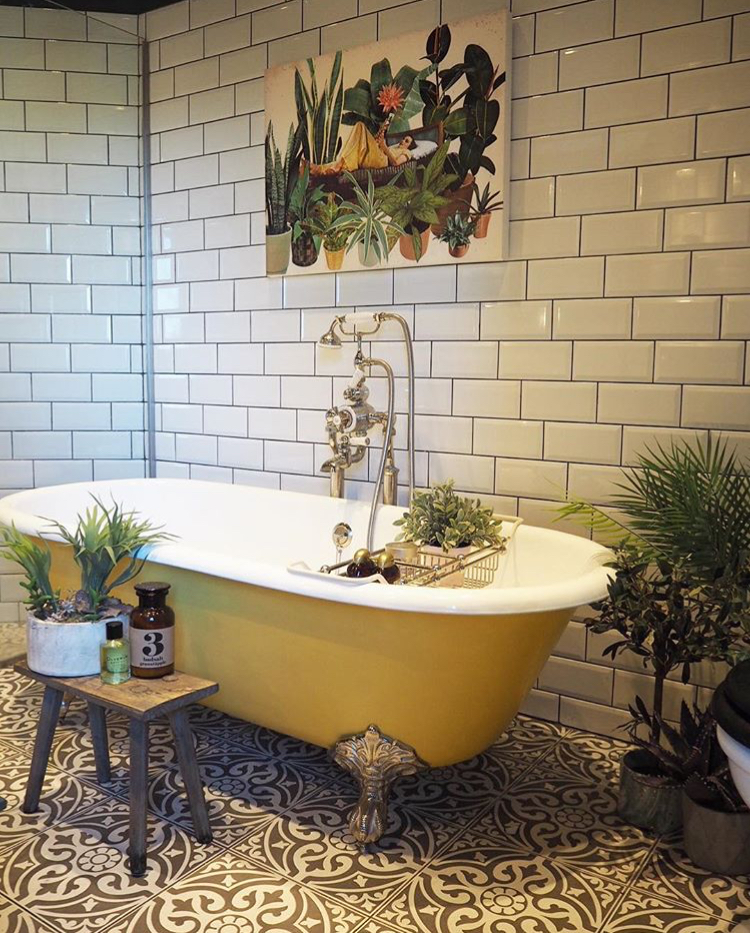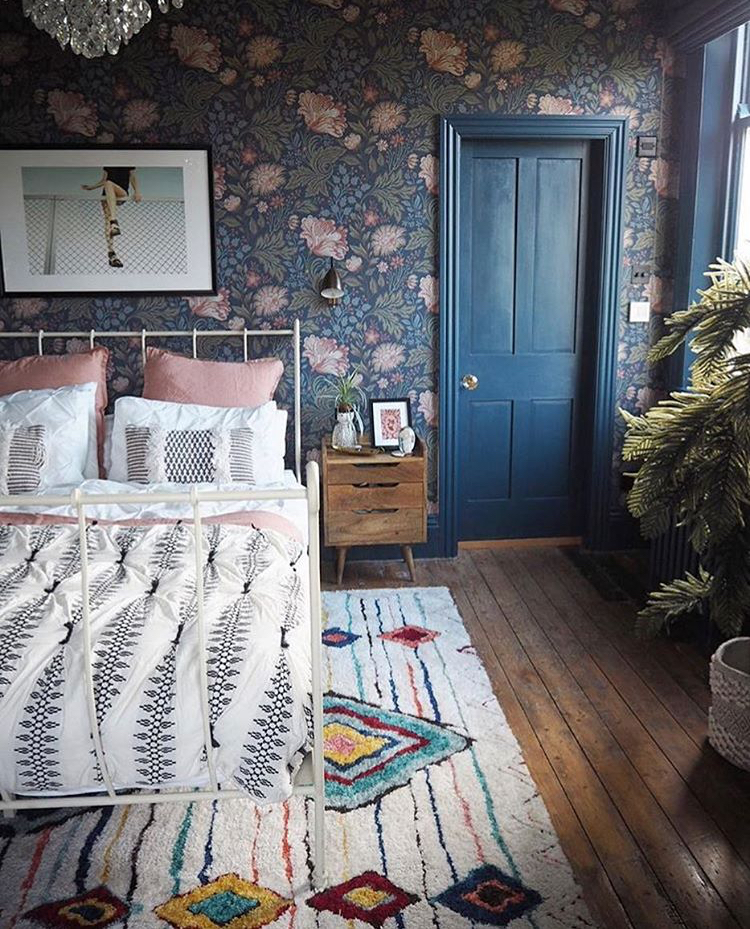 Which Instagrammer's house would you really like to live in? 
"There are so many! I'm going for lovely Carol of maxmademedoit for the jaw-dropping bedroom/en-suite situation. And the stairway. Oh, and the bathroom. Just everything. She's a clever lady".
What would we never find in your home?? 
"Tidiness! My house looks nothing like my Instagram grid on a day to day basis.  It usually looks like we've recently been burgled".
What's next for you?
"Our biggest project to date! We're taking out a massive chimney breast wall which will make an open plan kitchen-diner, bigger bedrooms for the girls and a bigger main bathroom.  I've been waiting to do this since we moved in 6 years ago and have deliberately left the existing kitchen and bathroom alone, waiting until we could knock down some walls!  I know it's going to be stressful, messy and disruptive, but bring it on!!"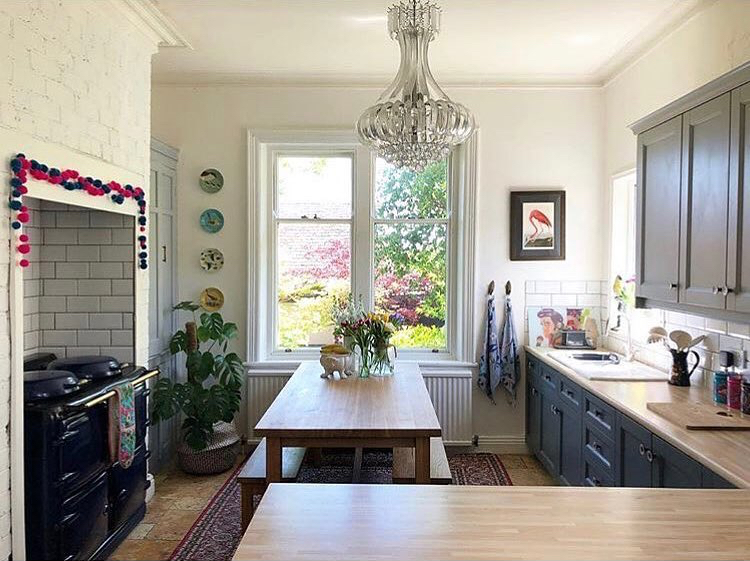 So if you're not following Sandra go follow now, I promise you, you won't be disappointed xx
All images credits: The Idle Hands